Lyle Drees did not want his son to stay on the family farm. He knew the struggles his son would face if he followed in his footsteps and urged him to look at a more stable career. One that offered the financial security farming cannot. It was time, he told his son, to do something else.
"They wanted to protect me from the dark side of farming," said Brandon Drees of his parents' advice. "It's not as uncommon as you would think."
Brandon took his advice and left his family's farm in Grand Forks, ND to become a software engineer. It paid well, offered benefits and job stability, but it wasn't too long before the appeal began to fade. He found himself listening to farm radio, daydreaming of tractors, being outdoors and seeing crops grow. He wanted back. Farming was in his blood.
"When I told my parents, they were floored. They said, you want to farm when you're making all that money? My dad didn't want me to come back."
In 2019, farming's harsh reality hit home
Drees Farms had been in the family for four generations. The 4,000-acre farm grew a diversified crop of corn, wheat, soybean, and dry beans, but its biggest cash crop was sugar beets.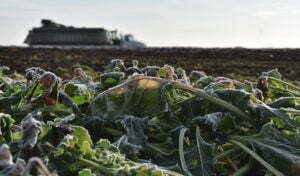 In 2019, it rained from September into October, creating muddy conditions as harvest was starting. Then it snowed. Sugar beets froze in the ground. American Crystal Sugar Company, an agricultural cooperative owned by 2,800 sugar beet growers including Drees Farms, advised it was ending harvest of all beets because of poor conditions.
The Drees family, like many others in the Red River Valley, had to downsize, reduce the acres it farmed, and auction capital equipment. Brandon's father took early retirement and Brandon was out of a job. Not the career path he envisioned, but a situation farmers know all too well.
Still, Brandon was one of the lucky ones
By planting season, Brandon had found a job at neighboring Galegher Farms, a 4,300-acre farm that grows sugar beets, wheat, corn, soybeans, and dry beans. The job also gave him the opportunity to realize his dream: 40 acres of his own to farm.
For every Brandon Drees, there are dozens if not hundreds of young people who want to farm but don't have the financial means. The high cost of land and equipment, and the volatility of weather and commodity markets have pushed the price of entry beyond reach.
At the same time, the need to groom a new generation of farmers has become critical.
97% of farms are family owned.
Nearly 60% of farmers are within 10 years of retirement.
More than half of U.S. farmland is expected to change hands in the next 15 years, with millions of acres already lost to factory farms, development, and foreign investment.
Only 6% of farmers are Brandon's age of 35 or younger.
Without government incentives and subsidies, the National Young Farmers Coalition (NYFC) warns we are one generation away from a food crisis. The coalition has asked Congress to include $2.5 billion over 10 years in the 2023 Farm Bill, for programs to support young producers and expand opportunities for under-represented minorities.
Agriculture at a turning point 
The Farm Bill will address a paradigm shift in agriculture: programs to combat climate change, improve food safety, economics of rural communities, and access to precision ag technologies, to name a few.
Farming is behind other industries in using technology to improve productivity; the next generation of farmers and ranchers will be the one to change that. They have a comfort level with technology that their fathers and grandfathers did not.
Using technology to improve farming
Over the past 20 years, Brandon has seen the gradual adoption of farm technologies firsthand, from the software in his cab's computers to platforms that ingest and spit back data on soil health, field conditions, and optimal planting rates.
"The farm has a technology suite for the planter that controls the population, keeps track of planting dates and varieties, singulation, fertilizer rates and more. We have a grain management solution to keep track of loads, and another app that creates an invoice for the load. You can track your yields, how many bushels came off the field, how many loads were produced, what trucks they went out on, and different contracts that apply."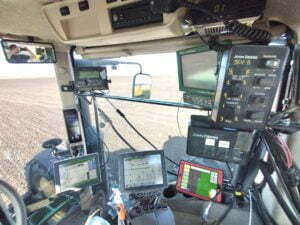 Brandon says technology has increased revenue for Galegher Farms, but for the majority of small farms, the costs are prohibitive. For example, Galegher Farms pays a subscription fee for the devices and data baked into John Deere equipment. It pays for a technology suite to monitor, control, and diagnose field conditions, and for satellite imagery to monitor crop health throughout the growing season. Add to this the cost of weather software for more accurate storm track predictions and quicker access to ag commodity markets, and you begin to see the daunting hurdles that face family farms and beginning farmers.
And all these costs still don't solve a problem preventing farmers from realizing more benefits. The majority of digital applications don't work together to make data uniform across systems to give farmers a full view of the factors affecting their bottom line.
"If we could integrate our farm management software, the contracts with the grain elevator, our wheat contracts, and our accounting software, we could see how profitable our revenue is per field."
Farm life: grueling yet gratifying
It's 10 p.m. and another 16-hour day for Brandon. He ate breakfast, lunch, and dinner on his tractor. He hasn't seen his wife and twin girls in more than two days. But it was "do or die" time. Planting was already weeks behind, thanks to a blizzard that dumped 12 inches of snow followed by 8 inches of rain over a three-week period. His fields, he said, looked like a lake. Corn doesn't like lakes.
Despite it all, he says farming has benefits no other job can provide—a chance to produce food to feed a growing population and help shape the future of farming.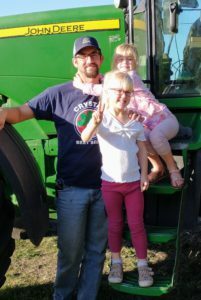 "It's a privilege to be able to do what I do. My twin daughters are now seven. This is something they can understand and appreciate as young children. They get to see me climb into a tractor and do something they can see for themselves. I get to give them rides. They ask me questions. I've shown them a little tiny seed and how we're going to follow this seed from being planted in a furrow as it grows and matures and gets harvested."
Brandon wasn't thinking of the future of agriculture when he returned to farming. He was thinking more of his family and making a living at a job he loves and takes pride in doing.