Rural America has an internet access problem, and for the foreseeable future, it will continue to be reality for growers and ranchers in remote areas. While rural connectivity is improving, a 2019 report found that 25% of farms cannot get online.
Without access, farmers have limited communication with workers and customers, an inability to transmit or receive data, and a serious lack of real-time information. Even for farmers who can connect to the internet at home, reception may still be patchy, unreliable, slow or nonexistent in barns and fields, putting them at a competitive disadvantage.
"There are a few issues here," says Skyward Apps Chief Technology Officer Nicholas Elliott. "One is communication in complex farm environments, such as putting the right supplies and the right equipment at the right place and making sure it's coordinated properly. Another is making decisions on the go, such as looking at a growth problem. In this case, you'd want to be able to see a history of the field, prior issues, what weather had occurred, satellite imagery, etc. These issues are all related to receiving data." "On the transmitting side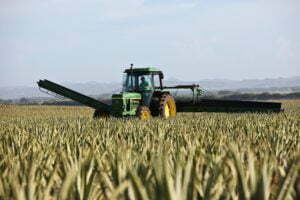 ", Elliott continues, "there may be sensor data or live telemetry from tractors that you'd like to get in real time."
Understanding and Overcoming the Connectivity Problem
The ideal solution to inadequate internet access would be to improve availability. Whether that's through additional towers or underground wirelines or better DSL, cable, or satellite internet options, most of these options require web providers to step up or the federal government to intervene. In the meantime, technology companies are rising to the occasion with innovative applications.
"We think it's critical that farmers in rural areas are able to access information to make well-informed decisions," says Todd Pugh, Director of Technology, Enterprise Solutions, U.S., for Proagrica. "They can't be away from data and internet all the time. We worked with Skyward Apps on the Sirrus application, which has the capabilities to still be able to do things offline. The app allows these producers to have the information they need at their fingertips while being disconnected."
"The application revolved around two linchpins," Elliott says. "One, using a mobile device—a phone or tablet—as a communications device where there is some kind of coverage.  This is in contrast to, for example, putting a cell connection onto the tractor itself, and two, using a mobile device as a data relay for places where there is zero coverage. This means things like downloading maps ahead of time and predicting where the user will go and what they will need or letting a central 'dispatch' push data out to the device to preload it."
The app works in reverse as well. Producers can use the mobile device to store field and harvest data until they reach areas where they have service. From there, the data can be uploaded to the appropriate destination. Nothing beats a real-time connection, Pugh says, but the app is the next best thing. "The goal is to help make agriculture systems better and more efficient," he says. "Sirrus synchronizes data with back-end systems, but it also has near-full capabilities offline. It allows farmers and ranchers to access the data they need wherever they are, connected or not."
The Path to a More Connected Future
Even as connectivity increases, stretching further into farms and fields, there's additional work to be done. High-speed internet is only as useful as the systems that support it.
"There's a digital revolution in the agriculture space, and farmers, regardless of location, need access to these innovations to farm more efficiently, profitably, and sustainably," says Elliott. "Skyward is seeing a trend in requests for smart systems making more intelligent decisions, and each one requires more data than the last. Getting connectivity in the field or simply smart ways to work around spotty coverage is critical. We can't be held back by the technology of yesteryear."
Curious how agribusinesses are using technology to grow more, sell more, and reduce waste? See our Case Studies or reach out to talk about solutions to your particular technology challenges.